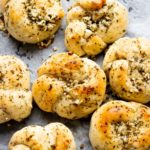 Print
Garlic Knots with Pizza Dough | Easy Garlic Knots Recipe
Garlic Knots with pizza dough is so simple to make, you'll end up making frequently. Great for party menus and can be made a few days ahead! Stock up on some garlic and let's do this!
The topping mixture:
Mix the butter, olive oil, minced garlic, italian herbs and salt together. Cover with cling film and keep it in the refrigerator until needed.
The dough:
Add 1/2 cup all-purpose flour to a mixing bowl. To that add the other ingredients: instant yeast, sugar, salt, 1/2 cup water, and olive oil in this order. Stir to combine. Cover with lid or cling film. Set aside for 10 minutes.

After 10 minutes, add the rest of the flour to the mixing bowl. Mix and form a dough. IF* needed, add the extra 1/4 cup water. The dough should be tacky and soft.

Oil the bowl and place the dough back into it. Cover with lid and let the dough rise for 1 hour or until it has doubled in size.

After the dough has doubled, punch it down, form it into a ball and then divide it into 8 portions. Roll each portion into approximately 8-10-inch ropes/logs.
Shaping them:
To make the knots, hold the logs at each end, bring the right side over the other leaving a loop in the middle. Then simply make an OVERHAND knot. Tuck the leftout edges underneath.

Repeat with the other portions. Arrange it on a baking tray lined with parchment paper leaving an inch gap between each.

Cover it with a cling film, loosely. Let it rise for 30 more minutes.
Baking the Garlic Knots:
Preheat the oven for 10 minutes at 400 F / 200 C.

Dip* a pastry brush or a silicone brush into the topping mixture and generously brush the butter mixture over the knots.

Place the tray in the oven and bake for 20 minutes. Remove the tray and brush the knots again with the butter mixture.

Put the tray back in the oven. Turn to broil mode and bake for 10 more minutes*.

Remove from the oven once done. Let it cool down a bit. Serve it warm with Homemade Pizza Sauce! Enjoy!
Serving:
1
knot
|
Sodium:
0.9
mg
|
Sugar:
1.6
g
|
Fiber:
1
g
|
Potassium:
10
mg
|
Cholesterol:
7.6
mg
|
Calories:
180
kcal
|
Monounsaturated Fat:
4.5
g
|
Polyunsaturated Fat:
0.6
g
|
Saturated Fat:
2.5
g
|
Fat:
8.5
g
|
Protein:
3.2
g
|
Carbohydrates:
24.3
g