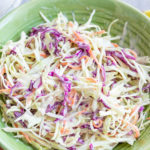 Print
Best ever coleslaw recipe | CABBAGE COLESLAW
Best ever coleslaw recipe made with shredded cabbage and a little bit of shredded carrot. This creamy coleslaw comes together in under 20 minutes and is much lighter with the use of greek yogurt. This coleslaw is perfect to relish low-carb veggies!
Add the sugar, mayo, greek yogurt, vinegar, lemon juice, salt and black pepper powder to a small bowl. Using a tiny whisk, whisk all the ingredients to a smooth consistency.

In a salad bowl, add the shredded vegetables. Pour in the creamy mixture and mix everything together.

Serve immediately!
If you have fresh veggies, you can choose to shred them using a knife or a mandolin slicer. Otherwise, you can buy a bag of shredded coleslaw mix.
To make a completely no mayo coleslaw, just skip the mayo and substitute it with 2 more tablespoons of greek yogurt.
Ensure to serve this immediately. This coleslaw will become soggy if store for later.