Hey there! I'm Niveditha.
Welcome to my blog Ginger Skillet! This is a space where I write about my experiments and hits that happen in my kitchen. I blog easy to make and comfort food, but you can always see me oscillate between healthy food and indulgent food.
By indulgent I mean Chocolate of course! I love cookies more than cakes or any other sweet for that matter. I could eat Dark Chocolate all day every day, but I have a toddler to feed so I try my best to make wholesome meals for her and us. So, more about me…
I'm the wife to my husband Sanju and mother to my 2.5 years little girl, A. When I'm not trying to manage our home, I am also a food photographer and a food blogger. I had a full-time job, which I quit when my husband and I decided to move away from city life. We now live in a beautiful little town down in South India.
I am always running behind my daughter trying to get her to eat or playing hide and seek. I get some free time when she naps of course, which I split my time between doing product photography for F&B products and blogging.
My family:
So I met my husband when I was in college. After going back and forth being friends, we started dating. We were in a long-distance relationship for a long time. And then after 7 long years, we got married. This picture here below is one of the first few pictures soon after our wedding.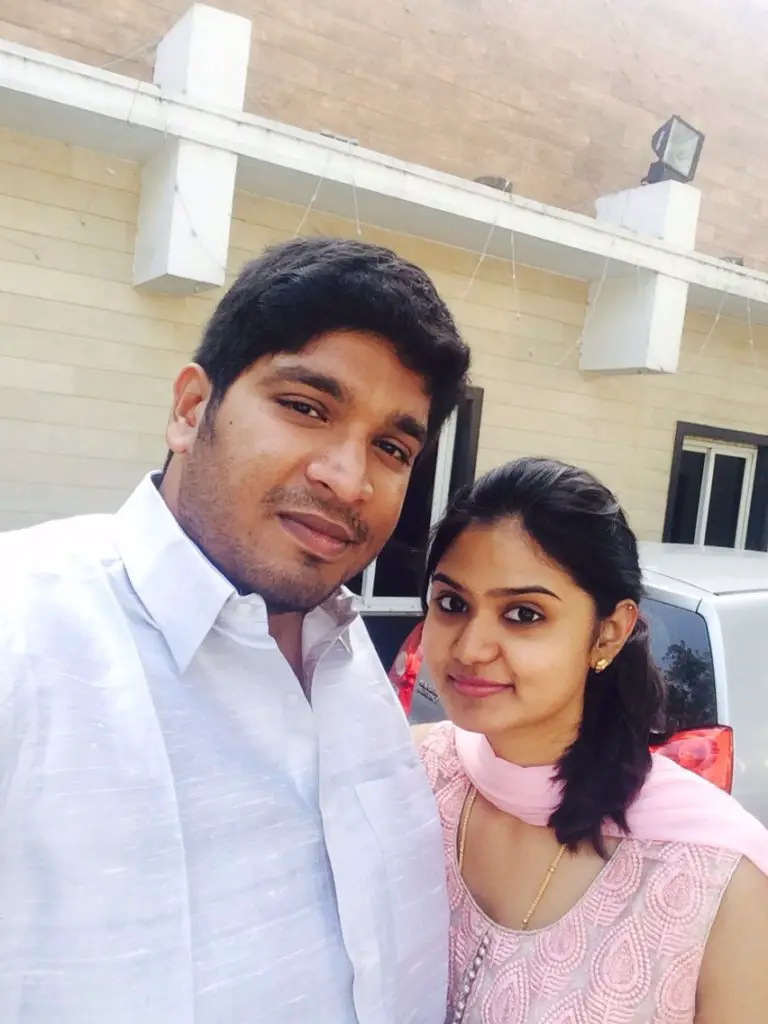 And then… in 2017, our daughter joined our club. Here's a picture of our daughter Aadhya back when she was a baby! She is a born foodie (that doesn't mean mealtimes are easy-breezy, kids right?). Our favorite part of the day is cooking, she helps out and I let her make a big mess.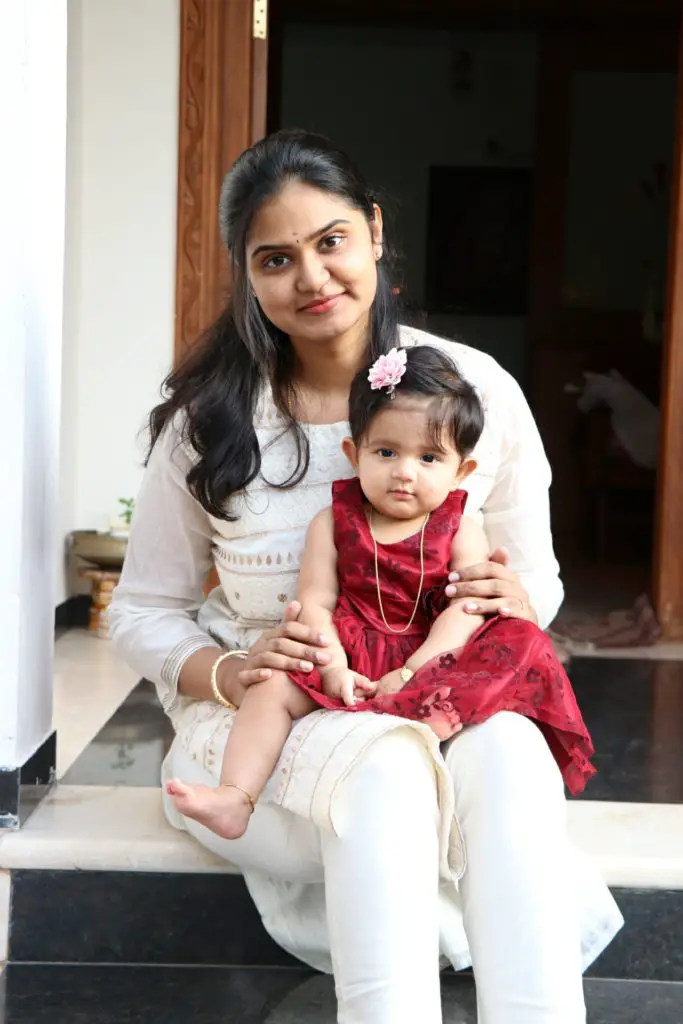 My husband is my biggest critic but he also loves to cook for us, whenever I am unable to. But we can not cook together, we always end up in a classic my-way-or-highway fight. We love to try out new restaurants and go on culinary trips. Our favorite part of the week is movie night with some comfort food that I cook up.
How Gingerskillet blog came to be:
I love food and probably love to cook more. I like how the aroma fills up the kitchen and the house. One of the reasons my husband and I often get into a fight is because I don't turn the exhaust on. I have always loved to try different food and there's no particular time that I started cooking. I think it was when I was in my teens; my friends used to come home and I would make something for them and call it a snack AND they loved it.
Years went by and I was making my own meals when I was living with my roommates. I didn't grow up around grandmothers who cooked all the time or a mother who baked frequently. My mom cooked what was necessary, she never had the time to try out different dishes. Recipes were handed down to me, although I secretly wish it happens someday. I collect, try various recipes until I get it right.
I am a recipe hoarder, I must have thousands of saved, pinned, clipped recipes. From which I try and test till I get it just right before posting it here. I am not a purist when it comes to cooking, but I do like to cook from scratch most of the time. I look for ways to simplify or prepare ahead to make a dish.
What you can find in this blog:
Like I mentioned before, I like to cook easy and comforting dishes which we as a family enjoy. I like practical recipes but I try my best to make food from scratch to avoid preservatives and additives. Which is mostly because I want to feed my daughter nutritious and healthy recipes. We like to have guests over and share our food. So all the recipes here on this blog would be family-friendly, kid-friendly, and party favorites.
What you won't find here are pork dishes, beef dishes, rabbit dishes, etc.. Simply put we eat Lamb, Chicken, Fish and no other meat. We aren't against other meat or anything of that sort. We tried a few but our taste palates wouldn't take them. I am perfectly happy as long as we have chicken on our table and my husband, on the other hand, would be happy with lamb.
And you won't find eggless recipes as well, because I love cooking and baking with eggs for reasons I have not yet understood. You could, of course, find a lot of vegetarian and vegan recipes on the blog. Because, even though we eat meat often, vegetarian food is always an important part of our household. We can not live without beloved SAMBAR.
Why ginger skillet? Honestly, all the names that I came up with all taken, lol. So, I had to think of something else. I am simply fascinated with cast iron skillets, it is my favorite pans to cook. And of course, I'm a spice lover and ginger is one of my favorite spices. Two things I love came together and this blog was named.
Popular Posts on this blog:
Traditional Christmas Fruitcake recipe
Loaded Walnut Banana Bread recipe
Restaurant Style Chicken Seekh Kebab recipe
Restaurant Style Cheese Corn Balls recipe
More about me
I have a thing for cookbooks. I don't think I'll ever stop collecting cookbooks.
I don't have one specific favorite cuisine. My favorite used to be Indo-Chinese, but that was before I had tasted any other cuisine (yes, wayy back).
Dessert is my middle name! I have a massive sweet tooth. Or a Chocolate tooth! My favorite dessert keeps changing. Tiramisu has been my favorite for a while now, 5 years to be exact. I'll be sure to tell if you if I find a dessert better than that.
Although I don't drink coffee I am forever infatuated with coffee flavor, coffee aroma, and coffee-flavored desserts. Hence, tiramisu.
I love social networking and I'm on Facebook, Twitter, and Instagram. Follow me for regular updates. I'm also a crazy pinner (is that a word? Lol), check me out on Pinterest for interesting pins.

Contact me for business inquiries and collaborations. Or if you would like to see a recipe on the blog, comment on posts, or if you wanna just say hi, hit me up!
Also, I would also love to know if you've tried my recipes and if you loved it. After all, these are what makes a food blogger's day!
Thanks for dropping by!

All the photos on this site are taken by me, unless specified otherwise. Please ask  before using any image or give appropriate credits when you use any image or recipes. A lot of work go into each post, I would appreciate if you respect my work. 

Interesting Recipes from our friends' sites: