Last updated on November 26th, 2019 at 06:49 am
Christmas Fruitcake – Rich, moist, totally decadent, boozy Christmas fruit cake. Loaded with fruits, almonds and spices, this plum cake will leave you wanting for more!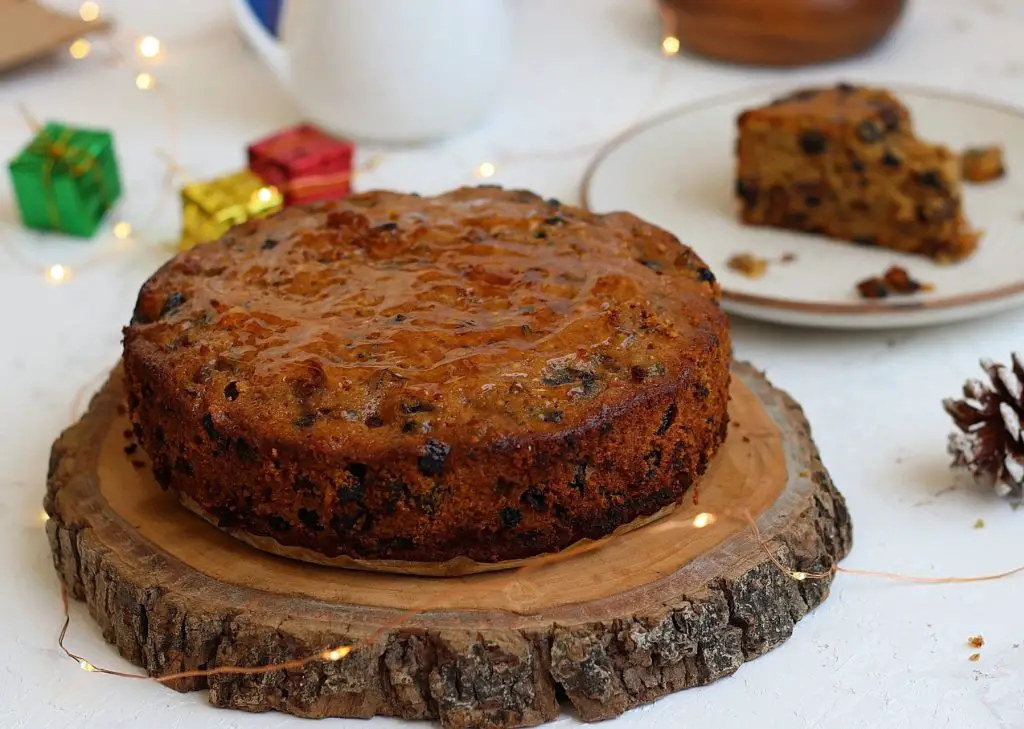 Hey guys!
Among the good influences the British brought to India, baked goods will always be my favorite. There are more bakeries in India now than a gas station or a pharmacy. Baking in India has been constantly evolving over the decades. When I was a kid, I remember buying Madeleines without even knowing the proper name of it. I remember enjoying lamingtons, assuming it's an Indian cake because it had coconuts (right?).
Bakeries had simple names: cakes or biscuits. Now that we are more informed and connected to the rest of the world, the olden British influence is fading out and modern French and American style baking has made its way in. Gone are those days of hard cakes, none of the bakeries make lamingtons or Madeleines now. Cakes have evolved so much; cakes soaked in sugar syrup has overtaken regular cakes.
However, Christmas fruitcakes are here to stay, don't you think? Every year, around Christmas, when stores stock up Christmas goodies, bakeries stock up on plum cakes. Though these days in modern bakeries I see panettones, yule logs, etc. When I was a kid, Christmas fruitcakes were the only popular Xmas-time treat. No frosting, no marmalade just plain delicious cake.
See also:
I have always looked forward to this season. The first time I made it, I fell in love! It tasted better than store-bought versions, with fruits in every bite. I don't drink alcohol, but I do love it in desserts. And I've always been a fan of rum and raisins chocolate. When I took a whiff of the fruits soaked in rum, I fell in love then again. The fruits absorb a decent amount of rum and soften up. This when combined with spices and baked, would spread a beautiful aroma around.
Traditional Vs Quick Christmas fruitcake…
I made a few changes to the original recipe. If you've noticed, the store-bought cakes are a bit dark in color. The dark color is achieved by the addition of treacle/ molasses or simply brown color. I skipped the molasses, mostly since I didn't have it around the first time I baked. Also because the cake without the treacle came out better than the store-bought cakes. If you like some color, 1 tbsp treacle would add some dark hue to the cake; but the cake looks just fine without it.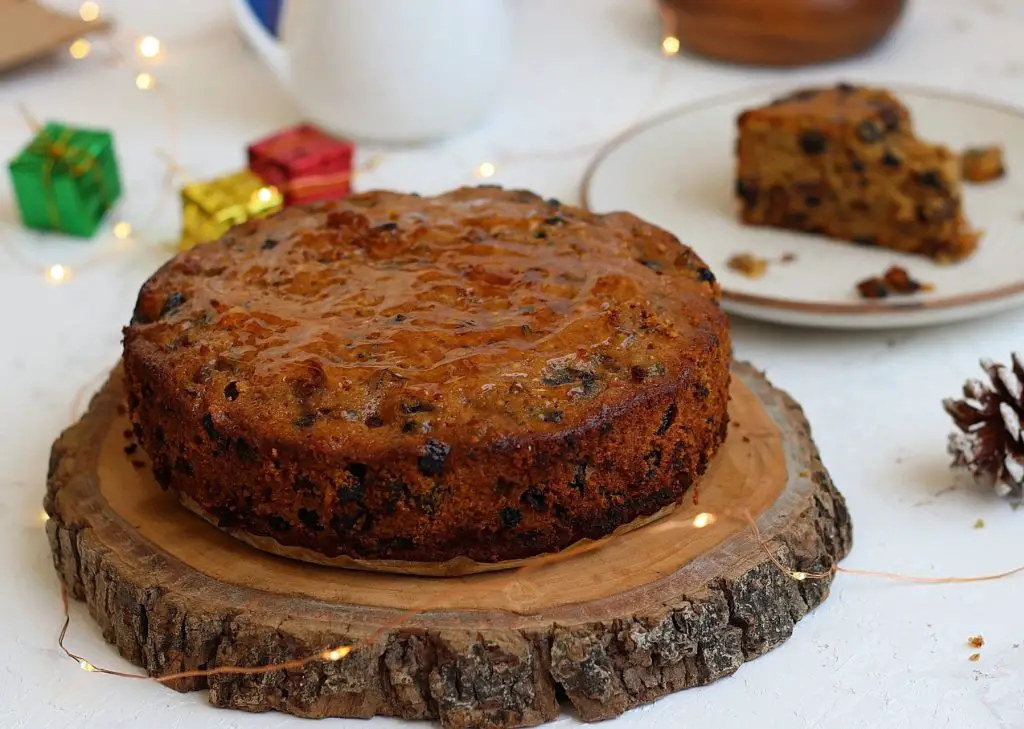 There are so many ways to make this cake. The most traditional method way is to soak the fruits for a month. Bake it a month before Christmas. Mature the cake by feeding it with rum once a week for three weeks.
Leaving it to rest during the last week before Christmas. Although it seems cumbersome, it yields the most delicious cake. Over the years, I've experimented with different methods and finally settled with the method given below.
See also:
The traditional method of soaking and feeding definitely was the best. But it was too boozy for my taste. Or perhaps I am just looking for a cake similar to the ones I've always had from local bakeries. You can also make the cake by soaking the fruits just overnight. This is certainly not bad when you are in a hurry. The flavor was a little less compared to when the fruits are soaked in for a longer time. Eventually, I decided to stick with the soaking fruits for a month in extra liquor and skipping the feeding process.
How to make rich plum cake / Christmas fruitcake: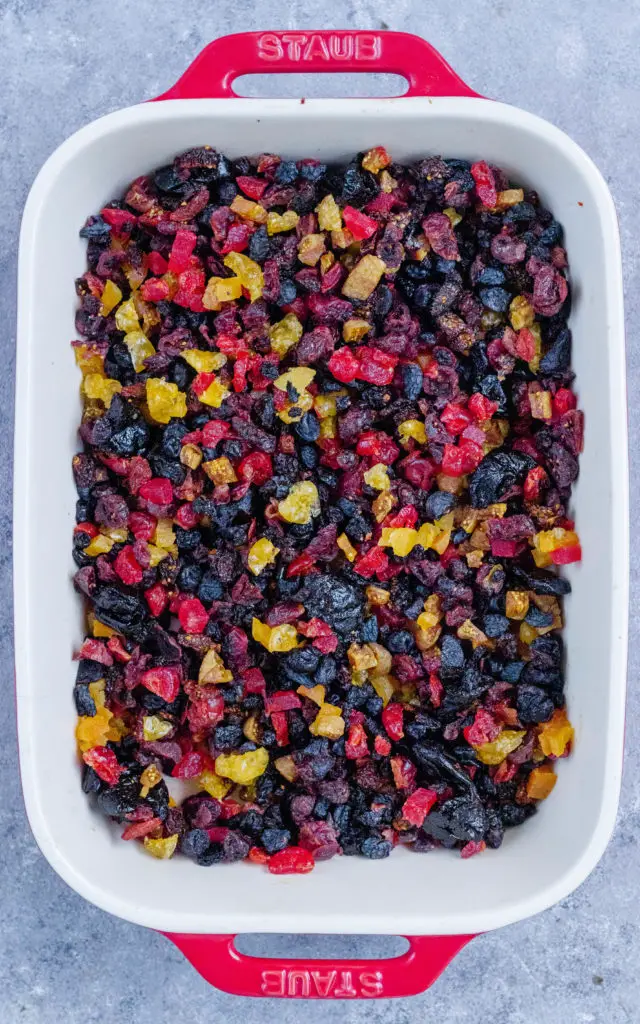 To make the fruitcake, the first step involves chopping up the dried fruits. You'll need a total of 500g dried fruits. I use about 200g of mixed berries, 60g figs, 100g prunes (dried plums), 150g mix of golden raisins and black raisins. Make sure you buy seedless grapes, as the seeds turn out to be annoying disturbances.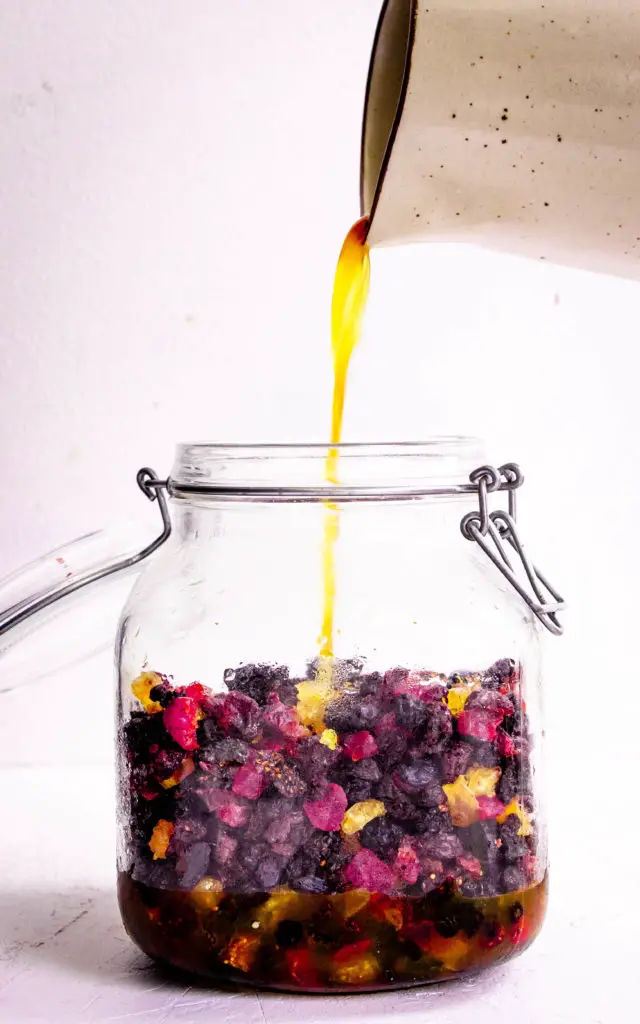 You can really mix up the ratio of fruits as you like. Chop them up into even, little pieces. Put them in a jar and pour about 150ml good quality rum. I used Old Monk. Pour in the juice of one lemon and one orange. Add in the zest of lemon and orange as well. Close the jar and refrigerate for 10-30 days.
Stir it every few days and put it back in the refrigerator. I've used slightly more rum, this way the cake tastes like it's been fed with rum, but without being very boozy.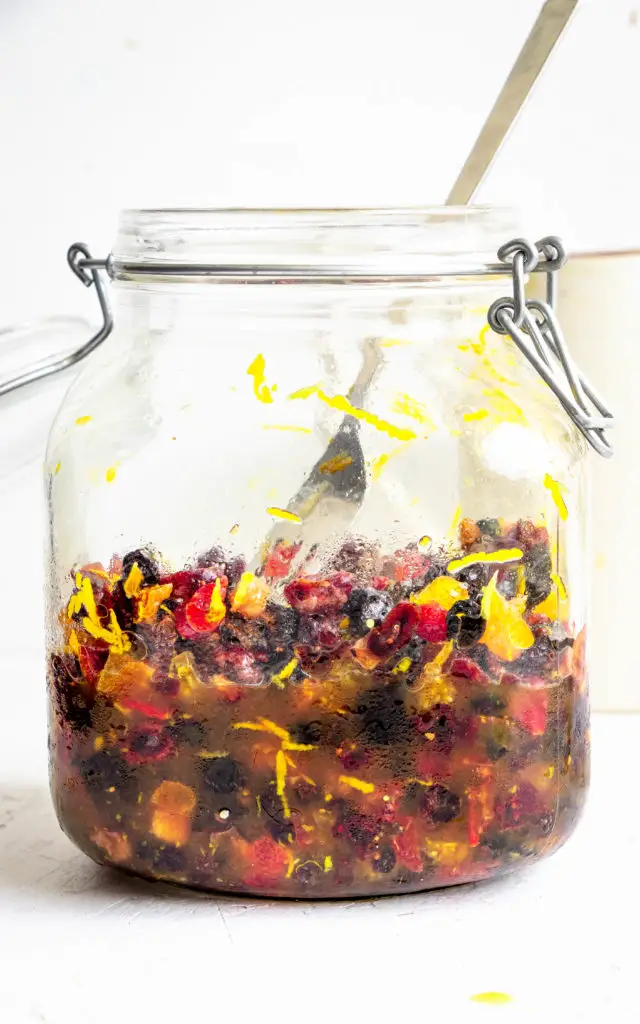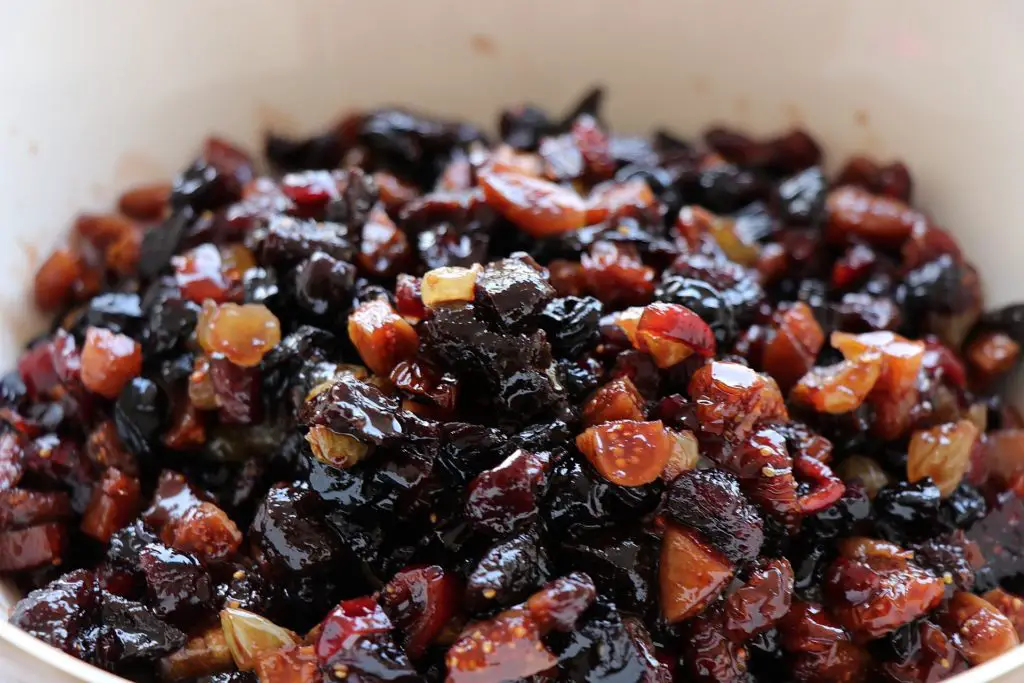 See also:
The day of baking:
Whipping up the batter for this is probably easier than a brownie. Gather the dry ingredients in a bowl and give it a good mix.
Add the sugar and room temperature butter to a mixing bowl. You don't need a stand mixer or a hand mixer for this one. You can simply used a wire whisk and manually do it. The batter doesn't need to be whisked for too long. If you have a hand mixer, it will just shorten the time.
Whisk the sugar and butter until it's light and fluffy. It takes about 5 minutes. Add the eggs, one by one, whisking after each addition. Once all the eggs are in, whisk for a good 5 minutes on medium speed. Until it is pale yellow and light.
See also:
Add half of the dry ingredients to the wet batter. Use a spatula to fold it in. Once mixed, add the other half and gently fold it until completely combined.
Now comes the good part. Add the fruits along with the leftover rum (if any) to the batter. Mix gently.
Preheat the oven at 150C for 10 minutes. I've used two 6 inch springform cake pans. It gives two thin cakes. This can also be made in a 9-inch cake pan. Coat the pan with butter and line it with parchment paper. Making sure the sides are taller than the pan itself.
Related Posts:

South Indian Mutton Gravy/ Mutton Kulambu recipe

Restaurant-style Cheese Corn Balls recipe
Pour the batter into the pan, gently spread it out to the corners. Give the pan a good tap to release any air bubbles.
Bake for 60-90 minutes. Check for doneness after 60 minutes by inserting a thin and long skewer. Remove from the oven and let it cool over a wire cooling rack. Allow it to completely cool down before removing from pan.
Smear marmalade lavishly and enjoy a slice of your homemade Christmas Fruitcake!
Shop related products:
Recipe Courtesy: This recipe is adapted and modified from Tesco.
Notes:
For this who don't mind more booze: Brush the cake with rum immediately after removing it from the oven. Poke tiny holes using a thin skewer or toothpick. Feed the cake by pouring a few teaspoons of rum every week. Wrap it up with parchment paper and cling film after feeding. You can do this for 2-3 weeks and skip the final week before Christmas. Cake with this amount of alcohol needn't be refrigerated.
For those who don't like any booze: You can substitute the rum with unsweetened orange juice. Soak the fruits in juice and keep it refrigerated until ready to use. Bake the cake as per the recipe.
For those who don't eat eggs: Substitute eggs with condensed milk. 1 egg = 4 tbsp condensed milk. When using sweetened condensed milk, ensure that you reduce the sugar. For this recipe, cutting the sugar to 100g would be good.
Enjoy!
More recipes from the blog:
Print Recipe
Traditional Christmas Fruitcake | Indian Plum cake Recipe
Rich, moist, totally decadent, boozy Christmas fruit cake. Loaded with fruits, almonds and spices, this plum cake will leave you wanting for more.
Rate/ Comment on this Recipe
Ingredients
Instructions
Make ahead – Soaking the fruits:
Chop all of the listed dry fruits into little pieces and put in an airtight glass jar.

Measure 150ml rum and pour over the chopped dry fruits into the jar.

Add the zest and juice from the orange and lemon, into the jar. Close the jar and leave it in the fridge overnight or up to 20 days.
To make the cake:
Preheat the oven at 150 C for 10 mins. Butter and line a 9 inch cake spring form cake pan.

Measure up the dry ingredients listed above. Give it a good mix and set it aside.

Beat the butter and brown sugar using a hand mixer or a stand mixer till it's light and fluffy. About 5 minutes.

Add in the eggs, one by one. Whisking after addition of each egg.

Once all the eggs are in, whisk until light and pale. About 5 minutes.

Tip in half the dry ingredients into the wet batter. Gently fold until combined

Repeat with the other half of the dry ingredients.

Once thoroughly mixed, add the dry fruits with any left over juices. Give it a good mixed.

Pour the batter into the pan. Spread it out to the corners, gently. Firmly tap the pan to release any air bubbles.

Bake for 60-90 minutes. Check for doneness with a toothpick after 60 minutes.

Once done, remove from oven and let it completely cool down.

Remove the cake from pan, smear marmalade generously and store in a box or wrap it in cling film.
Spice Mix Powder:
Place a pan on low heat and heat the spices until you can smell the aroma.

Remove from flame and let it cool down completely.

Grind it to a smooth powder in a food processor.
Nutrition Facts
Traditional Christmas Fruitcake | Indian Plum cake Recipe
Amount Per Serving (1 slice)
Calories 385
Calories from Fat 143
% Daily Value*
Fat 15.9g24%
Cholesterol 86.8mg29%
Sodium 30.9mg1%
Potassium 164.9mg5%
Carbohydrates 51.1g17%
Protein 4.3g9%
* Percent Daily Values are based on a 2000 calorie diet.
Notes
Should you choose to soak it for more than a night, give it a good stir every few days. You can let it soak for a maximum of 20 days.
You can substitute eggs with 4 tbsp condensed for each egg. If using sweetened condensed milk,  you'll have to reduce the added sugar to 100g for this recipe. 
You can substitute alcohol with orange juice for soaking.
Tried this recipe?
Please rate it above! Also comment below to let me know your thoughts! 🙂
Enjoyed this recipe? Show us some love by sharing this with your friends on Facebook, Whatsapp, Instagram or Twitter!! Tried this recipe? Tag me with @gingerskillet on Instagram. Or, drop me comment below, would love to know!!