Last updated on May 23rd, 2021 at 03:25 am
Onion Chutney for dosa – This easy to make Onion Vadaga chutney is the crème de la crème among all the chutneys. This sweet and spicy caramelised onion chutney is the ultimate pairing for Aapams and Soft Uthappam Dosas. This chutney uses a special readymade condiment, Vengaya Thalippu Vadagam, that is used in making a few curries. That adds a nice distinct flavor to this chutney. That when combined with lots of onions and reduced to an halwa like consistency, it is ultimately delicious!
Jump to Recipe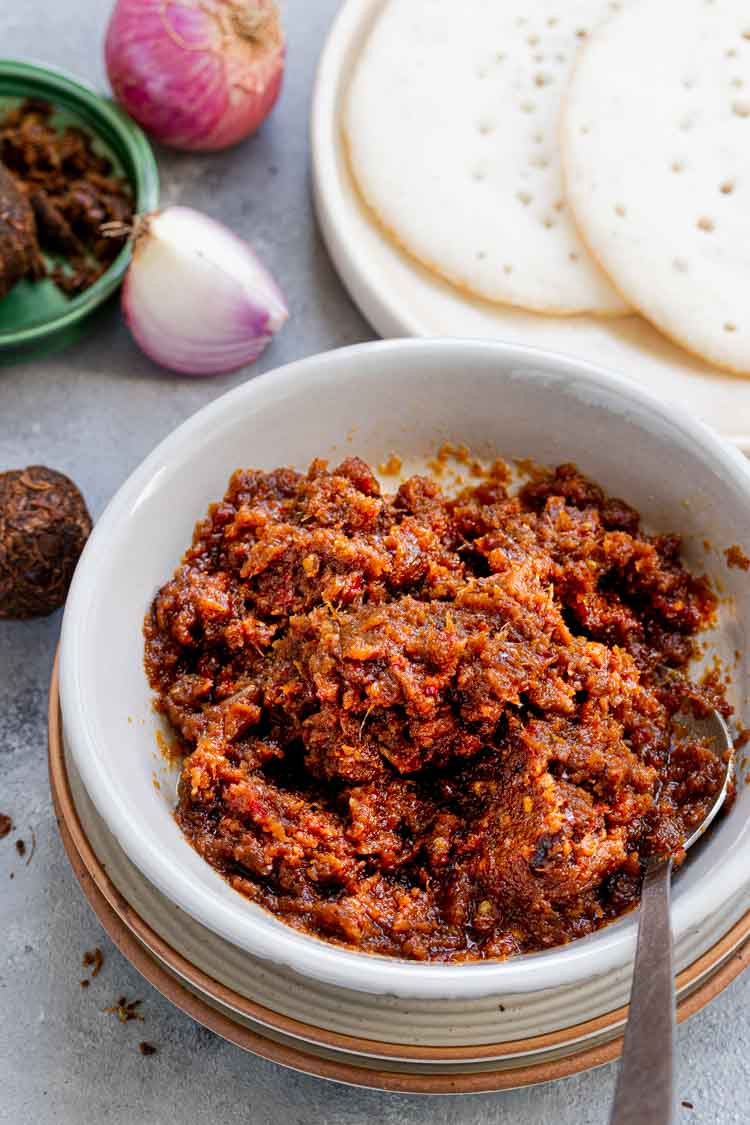 Onions are like the most important ingredient in our household and the most used as well. So it goes without saying that we make a lot of chutneys using onions. When I first tasted this chutney at my in-laws house, it was so new to me. I hadn't heard of thalipu vadagam before. But it quickly became one of my favorite chutneys. My mother in law uses sugar or jaggery to add sweetness. But I've since found that if done carefully, the sweetness from onions will give enough sweetness.
This onion chutney / vadaga chutney tastes sweet AND spicy; one combination that we all go gaga for. The spices are in there but the first thing you'll taste is sweetness which of course is from the beautifully caramelized onions. It tastes absolutely amazing, take my word for it and give this recipe a go, I'm positive you'll not be disappointed.
Onion Chutney for dosa / Vengaya Vadaga chutney:
The name doesn't do total justice here. It is caramelized alright, but it is caramelized once and then again! It is utterly delicious and melts in mouth when you serve it with aapams or dosas but especially with aapams!
What goes into this chutney:
Red onions: We are gonna use a lot of onions here. If you're making for a big family, you'll need an entire bag. And since it is delicious everyone is gonna reach for more servings. Pick red onions for this and make sure to discard any spoilt bits inside of them. You can use yellow onions if you don't find any red onions. In that case, the chutney will be even sweeter.
Red chillies: This is the only thing that adds spice here. If you like medium spicy chutney, go with 1 dry chilli for each medium sized onions. If you like more spicy, use 1.5 chillies for each medium onions or if you want the spiciest, go for 2 chillies per onion. Any more than that will not go with the sweetness of this chutney I feel. I use un-shrivelled medium spicy dried chillies for this.
Tamarind: This also adds a bit of sweetness but more important the much needed sourness. So with this ingredient, this chutney gets most flavors.
Vengaya Thalippu Vadagam: This chutney gets it's typical aroma and flavor from the addition of thalipu vadagam – a type of seasoning, which is made with onions and spices and sun-dried. A little bit of this goes a long way, because too much will add a bitter taste. My mother in law knows how to make even this at home!
Oil: The caramelisation of the onions gives the predominant flavor to this sweet jam. Oil is very crucial for getting the right consistency hence it is not a healthy chutney. Better consumed rarely and in moderation. I make this perhaps once a month when we make aapam. I found that using sesame oil alone gives a bitter taste. Therefore I used sesame oil while roasting it and sunflower oil to simmer and reduce the ground chutney. Any flavorless oil for the final step would be appropriate.
Notes:
Chutney will continue to deepen in color as it cools down
This vadaga chutney requires quite a lot of oil. This is required for the caramelization and to act as a preservative.
Oil from the vadaga chutney also starts to separate as it cools down. Suppose if you let it rest overnight, you can get rid of a considerable amount of oil.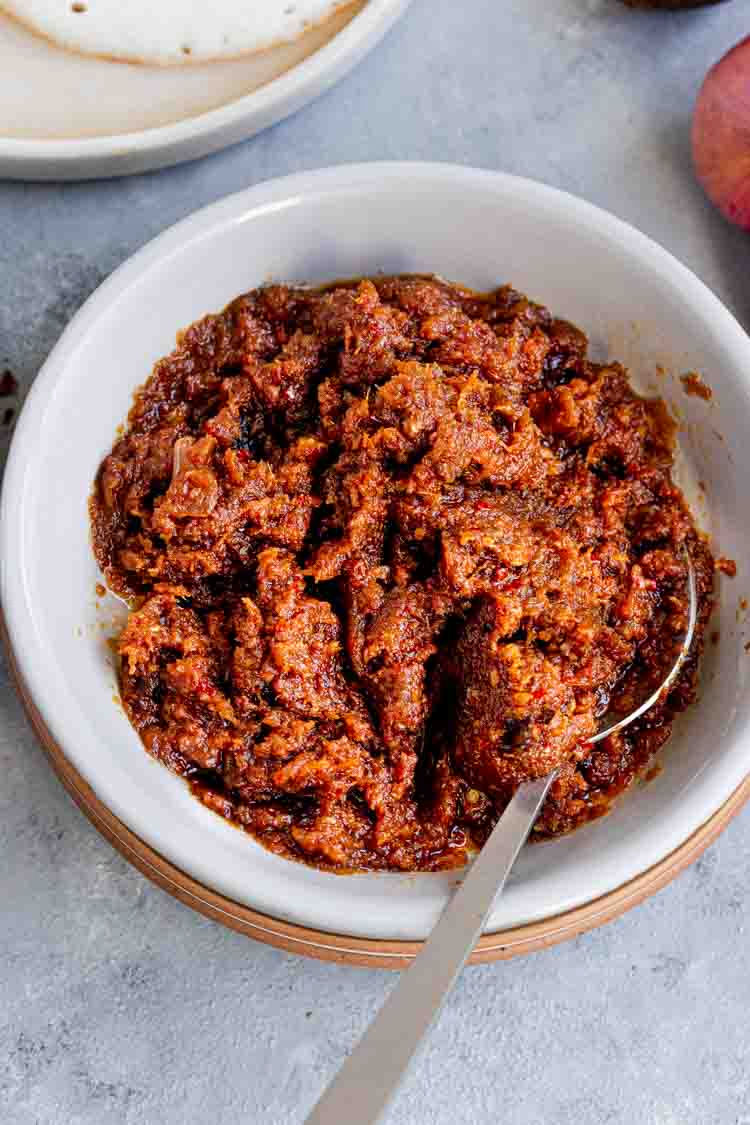 More recipes you might like: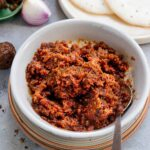 Print Recipe
Savory caramelized onion chutney | Vengaya Vadaga Chutney
This easy to make Onion chutney is the crème de la crème among all the chutneys. Caramelized onions along with just a few ingredients gives this sweet and spicy onion jam. It goes well with Aapams, dosas and much more. Top it up on burgers for a nice little twist.
Rate/ Comment on this Recipe
Ingredients
5

Medium sized

Red onions

(approx. 600g)

5

Dried

Red chillies

7

g

Tamarind

(approx. the size of a grape)

12

g

Vengaya Thalippu Vadagam

(the size of quarter lemon)

Salt

To taste

6

tbsp

Sesame oil

80

ml

Sun flower oil

(or any other flavourless oil)
Instructions
Part 1
Peel, wash and dice the red onions into cubes.

Heat the sesame oil in a skillet or kadai. Add the onions and sauté it in low flame.

Sauté until some of the onion cubes begin to brown on the edges. Add the Vengaya Vadagam to this and give it a good mix

Continue to sauté until all the onion cubes are browned. Add the tamarind, chillies and salt. Remove from heat and let it cool.

Transfer the sautéed onions to a food processor and grind it until smooth.
Part 2
Heat the sunflower oil in a pan. Add the ground onion mixture to it. Mix it vigorously until the oil is completely mixed in.

Reduce the heat to the lowest. Cover the pan it with a lid.

Remove the lid and give a mix every 5 minutes to avoid scorching. It will start to change color.

Let it caramelize until it's deep dark brown in colour and the oil starts leaving on the sides.

Serve it right away with Aapams or dosas. Or, store it in an air tight jar in a refrigerator.
Notes
The chutney will continue to darken in color once as it cools down.
Storing the chutney for a few hours let's the oil rise up. You can discard the oil before serving.
You can find Vengaya Vadagam in major department stores throughout Tamil Nadu.
Tried this recipe?
Please rate it above! Also comment below to let me know your thoughts! 🙂
Made this? Got doubts? Let me know what you think in the comments below!