Last updated on September 20th, 2023 at 05:51 am
Kerala chicken fry is a minimalist chicken fry recipe that doesn't even have a batter or breading over the chicken. Widely found in Kerala, this dish is served as a snack or with biryani. You'll fall in love with the simplicity and the rich flavor.
Be sure to check out this fiery Dynamite Chicken recipe next!
Jump to Recipe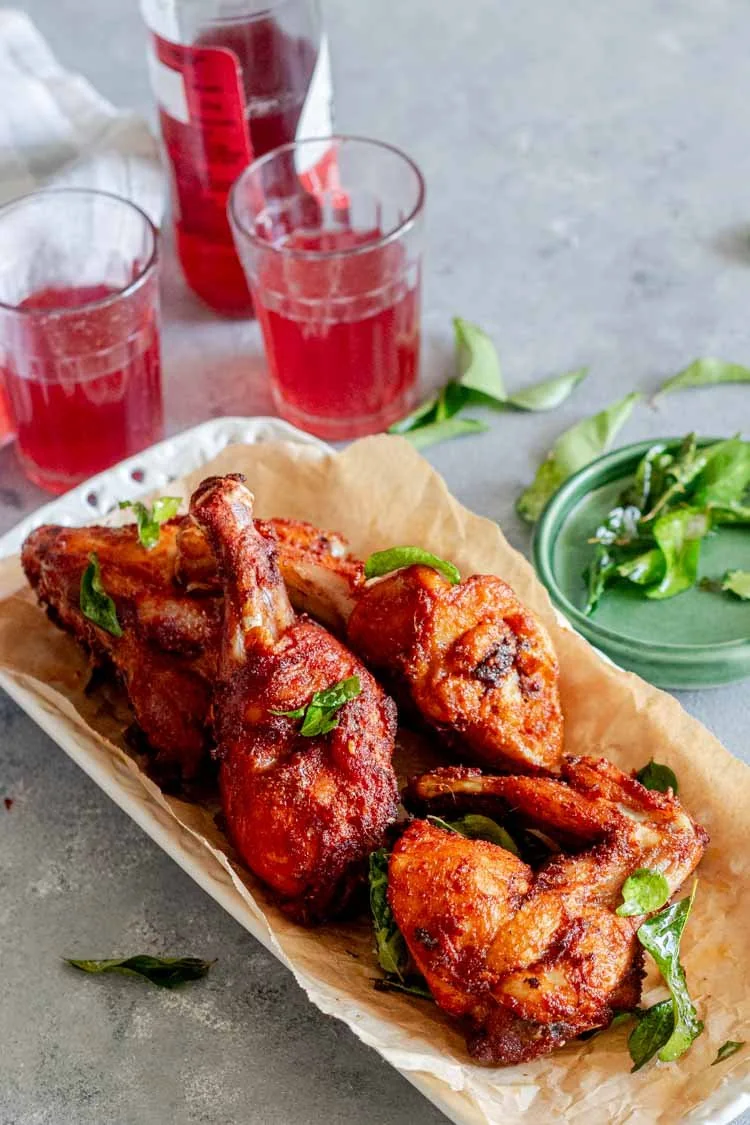 If you've had neichoru with chicken fry in Kerala or in Kerala cuisine restaurants, you would have come across this minimalistic chicken fry. It pairs so well with Kerala style biryanis and plain neichoru. This Kerala chicken fry recipe gives a dish that is exactly like the one I tasted in one of my favorite restaurants.

Why I love this recipe:
I've been in love with this style of chicken fry since the day I tasted it in Kerala. There's no batter or much prep work involved and yet so flavourful. Sort of like a lazy chicken fry where most of the chicken meat comes in contact with the hot oil. This gives a unique dry texture over the surface of chicken and when you bite into it, the insides are juicy!

Kerala chicken fry recipe: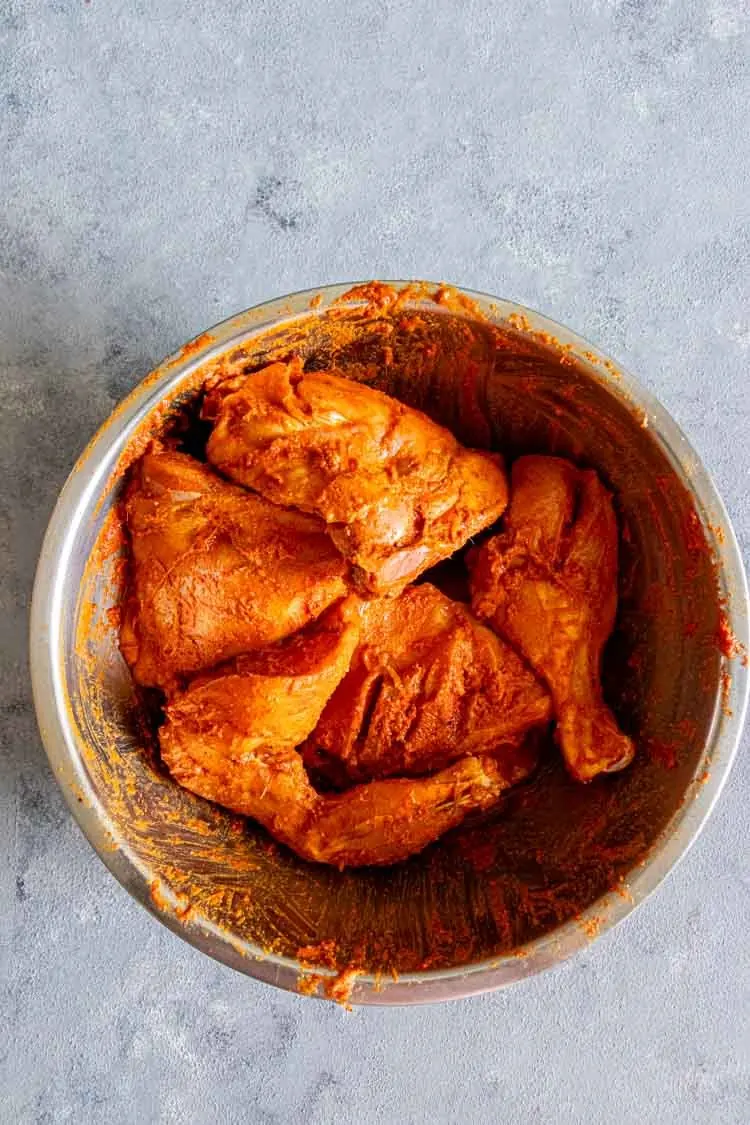 What goes into this:
Chicken: Choosing the right type and cut of chicken is important for this recipe. I like to use large pieces of chicken just like I see in restaurants. But cooking the large ones gets difficult in home kitchens. Large pieces require high uniform heat wherein the chicken gets cooked yet doesn't get burnt.
When I use large pieces of chicken, I make several deep slits on the chicken on one side of the piece (so that you can serve with the other side up – it just looks neat that way). And I cook on low-medium heat for 15 minutes all the while keeping an eye on it to prevent burning.
I recommend that you go for medium-sized pieces that are a little bigger than bite-sized. Another great option would be to use chicken drumsticks. If you cut off the ligaments are the bottom, the drumsticks cook well.
Spices: A mix of coriander powder, chili powder, turmeric powder, and a tiny bit of garam masala powder come together in this chicken fry recipe.
Frying oil: One of the best ways to bring the authenticity of Kerala cuisine to your home is to use coconut oil. I regularly use coconut oil for deep frying. But if you're not used to that, you can use neutral vegetable oil for frying.
How to serve this Kerala Chicken Fry:
Serve this Kerala chicken fry with ghee rice or any pulav. You can also serve this with Kerala style neichoru or this Instant Pot chicken biryani
Storage instructions:
This chicken fry is best made fresh and served immediately. You can however store the marinated chicken in the freezer for up to 15 days and in the refrigerator for 1 day. Make sure to use an airtight container.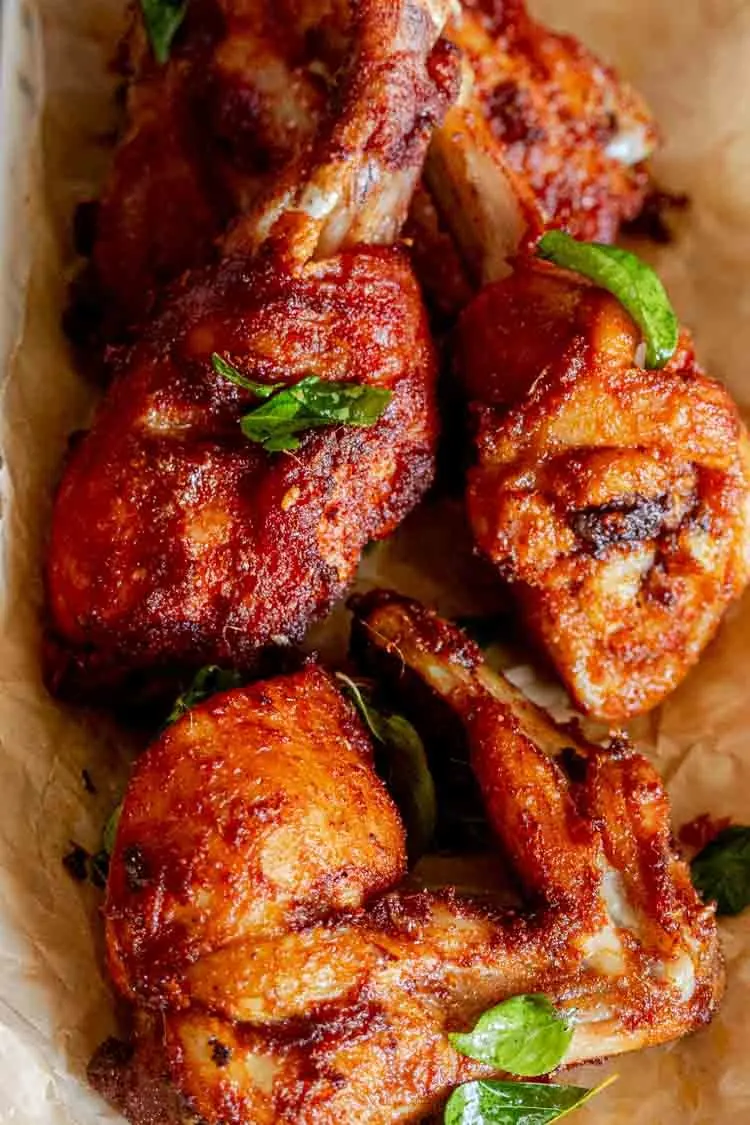 Tips for a fail-proof dish:
If possible, use coconut oil for frying.
Marinate the chicken overnight or at least 8 hours.
Buy a young bird's meat. And stick to medium-sized pieces.
Cook in low-medium flame.
Got more questions?
Can we make this in Air Fryer?
Yes! The no-batter situation works in our favor when we want to use Air Fryer. Spray the marinated chicken with cooking oil. Choose the Fry mode and cook it for 10-15 minutes flipping the chicken pieces at half-time.
What is Thattukada Chicken Fry?
Thattukada translates to street food. This chicken fry although served in hotels, they are mostly served by street food vendors.
Is Kerala Chicken Fry the same as Kerala Chicken Roast?
No. Kerala chicken fry is deep fry without any other ingredients like onions. Kerala Chicken Roast on the other hand is made with many other ingredients and cooked with ghee.
Can I use the same recipe for frying vegetables?
Yes, raw bananas or plantains go very well with this recipe
What other meat can I use?
Use Turkey or Quail as an alternative to Chicken.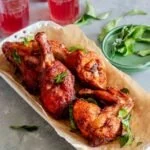 Print Recipe
Kerala Chicken Fry Recipe (The BEST Thattukada Style recipe)
Kerala chicken fry is a minimalist chicken fry recipe that doesn't even have a batter or breading over the chicken. Widely found in Kerala, this dish is served as a snack or with biryani. You'll fall in love with the simplicity and the rich flavor.
Rate/ Comment on this Recipe
Equipment
Deep Frying Pan

Slotted Spoon

Tongs
Instructions
Wash and pat dry the chicken. Add it to a mixing bowl and apply the ginger garlic paste over the chicken pieces until it coats all the chicken pieces thoroughly.

In another small mixing bowl, combine the turmeric powder, coriander powder, chilli powder, garam masala powder, rice flour, lemon juice and salt. Mixing them all with a spoon.

Add the mixed paste to the chicken and coat the chicken pieces with the masala paste.

Cover the mixing bowl and place it in the refrigerator and let it rest overnight or at least 8 hours.

After the marination time, heat a frying pan and pour the coconut oil or any other oil you're using into the pan.

Heat the oil until a drop of masala paste immediately comes up and gets burnt. Now reduce the heat to medium flame. Add two or three chicken pieces based on your pan's size.

Make sure to not crowd the pan. Flip the chicken pieces midway if your pan is shallow.

Cook for about 15 minutes or until the chicken is deep goldern brown in color. Remove the pieces using tongs or a slotted spoon and place it in a colander lined with a place underneat; for the oil to drain.

Serve immediately. Fry the remaining pieces in batches.
Notes
This Kerala chicken fry is best with bone-in chicken. Should you use boneless meat, go for thigh meat.
If you want to make this with boneless chicken meat, you need to adjust the cooking time. Breast pieces cook quickly and overcooking them results in rubbery meat.
I use 3/4 tsp of salt as I feel over the time of marination it seems enough. Feel free to adjust it as per your liking.
If you're using coconut oil for frying and if it is your first time, you should know that the oil foams up quite a bit. This is why your pan should be deep and fill it with oil only till halfway. 
You can use Chicken Drumsticks if you don't want to go for a mixed type of cut. Cut the ligaments at the bottom of the drumsticks and push towards the top as much as you can. This ensures proper cooking through of the drumsticks.
Tried this recipe?
Please rate it above! Also comment below to let me know your thoughts! 🙂
Made this? Got doubts? Let me know what you think in the comments below!