Last updated on February 13th, 2021 at 04:15 am
Thakkali Bajji – a Tamil style salsa type chutney recipe with step-by-step instructions to make it This Chutney is a classic side dish for dosa, idlis, and chapathis!
Jump to Recipe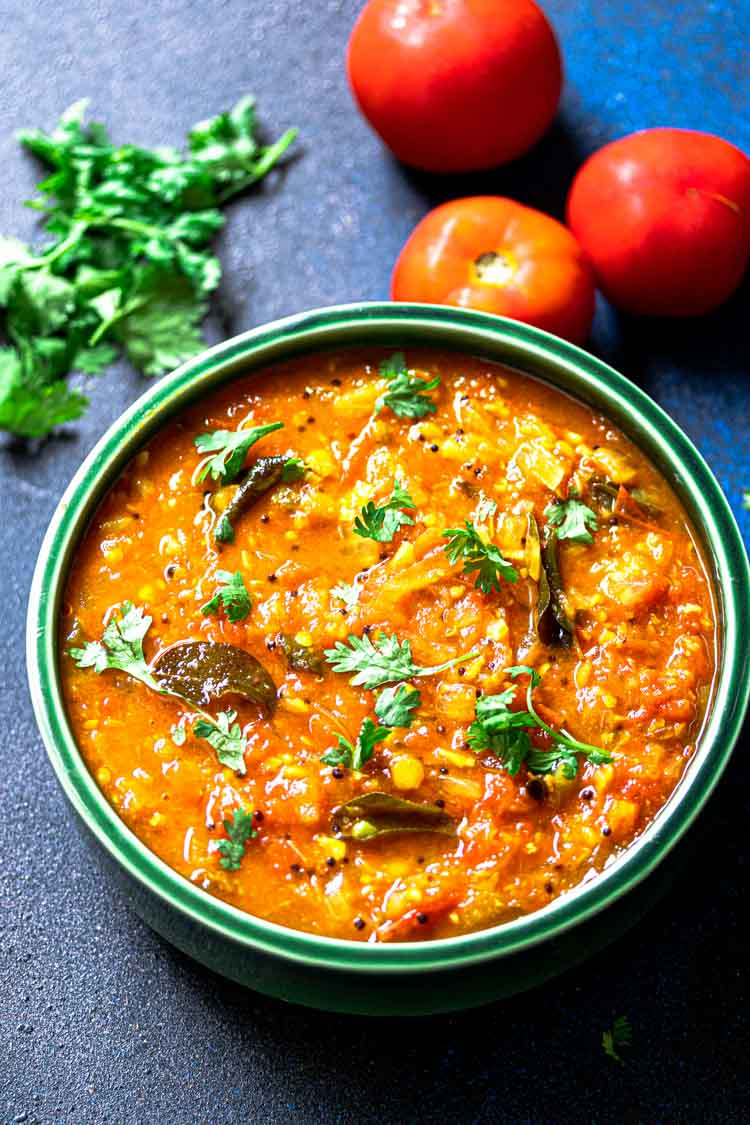 This Tomato Chutney is really close to my heart; my mom has always made this to go with dosas. My mom had learned this recipe from her mother, my grandmom. Although we call it Tomato Bajji or Thakkali Bajji, this isn't a common name and people always associate the term bajji with the popular fritter that goes by the same term.
I have no idea how this name came by; I did try asking my grandma who couldn't recall and since she is around 85 years I didn't expect much. But nonetheless, this Thakkali Bajji speaks for the simplicity of cooking in my part of South India.
There aren't any complex masala paste of spices involved and yet it tastes delicious. Simply put there's nothing but the flavor of the tomatoes that takes the spot of this dish. It goes wonderfully with dosas, idlis, and chapathis but my favorite though is crisp dosas which I like to dip in this chutney and enjoy.
Before we move on to the recipe here are other Tomato-based recipes that are on my blog. It does seem like I have an affinity to tomatoes, lol.
Thakkali Bajji / Tomato Bajji:
Thakkali Bajji or Tomato Bajji simply is just Tomatoes cooked with few other ingredients to impart some flavor and then the tomatoes along with the other ingredients are mashed down to further enhance the flavor. It is doesn't get simpler than this really.
What goes into this?
This is one of those minimalistic South Indian dishes which is also easy to make. There are only 9 ingredients involved here: some oil, mustard seeds, Bengal gram dal, curry leaves, onions, garlic, green chillies, salt, and tomatoes. Of these tomatoes, onions, garlic and chillies are the main ingredients, meaning you can choose to skip the other ingredients if you don't have it.7
Oil is essential of course, to get the ingredients sauteed. Mustard seeds and curry leaves are part of most of the south Indian dishes; mustard seeds add a bit of bitterness which I think adds a substance to any dish. Bengal Gram dal on the other hand is added to give an interest to the dish; when the Thakkali Bajji will be mashed down everything will be soft except this Dal.
Special Equipment:
What makes this chutney really special and flavorful is the method of AND stand apart from other chutney is the way is it processed. Once cooked this Thakkali Bajji is not ground or blended but instead, it is mashed down to an almost smooth consistency. Blending is a process where the ingredients will be cut down, but this method of mashing presses each ingredient to get the pulp out and then incorporate them all together.
This wooden tool, the one used for mashing is called "MATHU" in the Tamil language. Recipes like "masiyal" and "kadaisal", are always made with this tool. I have seen many households that don't use or even never heard of this Mathu, and almost always they are from different parts of Tamil Nadu. As I said, I guess this is a tool from the "Kongunadu" area as they call it which comprises cities like Coimbatore, Tirupur, and its surroundings.
Once you make it with this, you won't want to blend it. There is an obvious difference in taste between Thakkali Bajji made with mathu and that without. That being said, if you don't have it you can use a regular potato masher or a blender to mimic similar texture.
Serving Suggestions:
Like I mentioned earlier, this goes well with soft or crips dosas, idlis, and chapathis. Although I've seen one of the famous vegetarian restaurants serve this Thakkali Bajji with Ven Pongal, so maybe you can try that as well.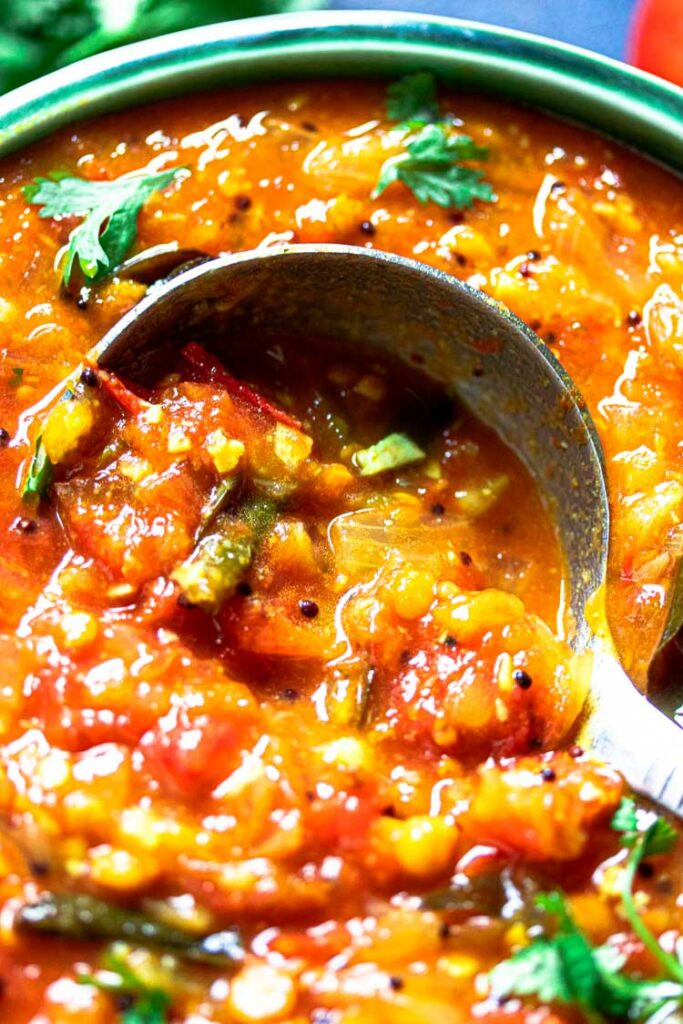 Storage instructions:
Although this Thakkali Bajji / Tomato Bajji tastes wonderful when made fresh, it also stores really well. I sometimes make this and we store it for two days, of course, that is considering the tropical climate that we live in. It will store well for more than two days in cooler weather. Also, this tomato chutney freezes well and can be kept frozen in an airtight container for up to a month. To use, thaw in refrigerator overnight or
Special Diets and allergen information:
This Thakkali Bajji recipe is free from lactose products as well as gluten. This dish is completely vegan and vegetarian.
Variations and Substitution:
You can use Roma Tomatoes in place of Heirloom varieties for a sweeter taste.
See Also: Rustic Pressure Cooker Chicken Soup recipe
How to make it without an Instant Pot:
To make it without an instant pot, you cook chopped tomatoes ahead in boiling water for 10 minutes. Reserve the water.
Follow the rest of the steps given below but using a saucepan or a Kadai.
Add the cooked tomatoes where it calls for raw tomatoes. Add 1/2 cup more of the water used for cooking the tomatoes. You'll be using 1 cup of water in total.
Simmer without a lid until it boils down to the right consistency.
Mash it down with mathu or potato masher or immersion blender to a coarse texture.
How to make this Tomato Chutney in Instant Pot:
As I have said multiple times in this post itself, this is really easy to make and with only a handful of ingredients. Let's go ahead and make it!
These are the ingredients you'll be needing to make this chutney / thakkali bajji: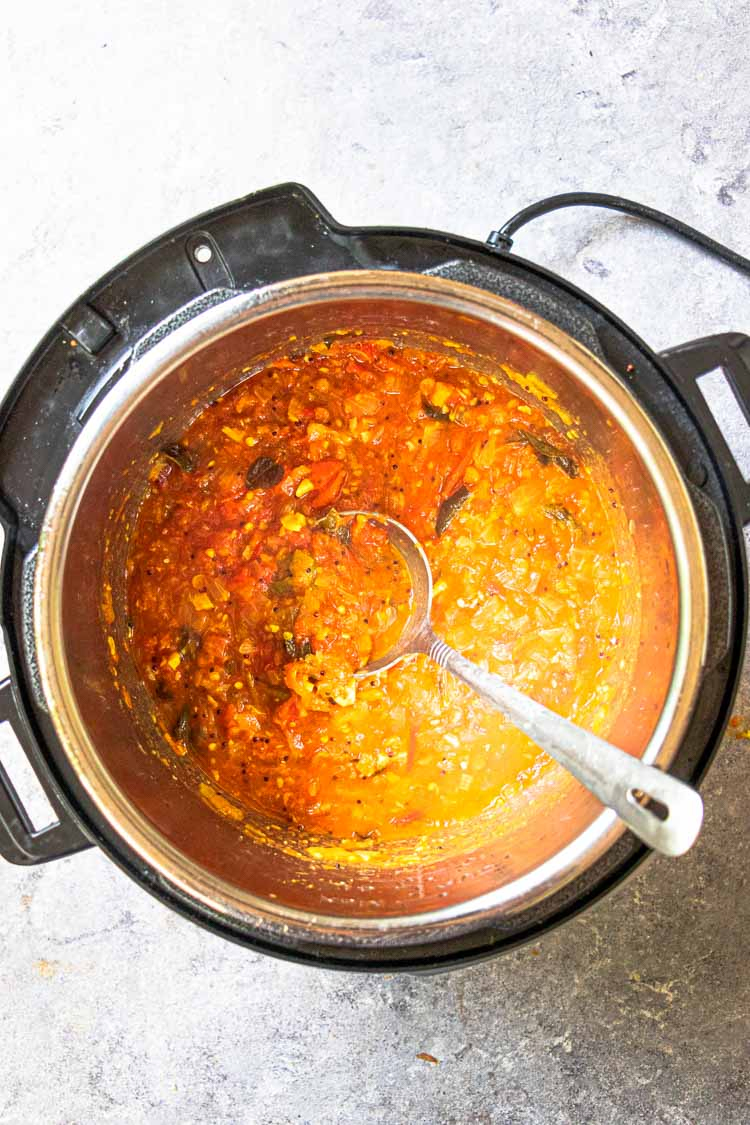 Vegetable Oil – 1 tbsp
Bengal Gram Dal / Kadala Paruppu – 1 tbsp
Curry Leaves – 2 sprigs
Red Onions – 2 medium (approx. 200g, Sliced)
Garlic Pods – 5 large (Peeled and Chopped)
Green Chillies – 5 medium
Turmeric Powder – 1/8 tsp
Ripe Tomatoes – 6 medium-large (approx. 450g, diced)
Salt – 1/2 tbsp
Water – 1/2 cup
Coriander Leaves, for garnish, (optional)
Now, let's see how to make this:
Place the inner pot into the Instant Pot. Set it to SAUTÉ mode for 10 minutes.
Pour in the oil and let it get hot.
Once the oil is hot, add the mustard seeds, Bengal gram dal, and curry leaves. Wait until the mustard seeds splutter.
Then add the sliced onions and sauté it until it turns translucent.
Next, add the chopped garlic and the green chillies. Sauté for a few minutes.
Add the turmeric powder and mix it once. Finally, add the tomatoes, salt, and water.
Give a quick sauté and cover the Instant Pot with its lid. SEAL and set it to PRESSURE COOK for 10 minutes.
Once the cooking time is done, Quick Release and open the Instant Pot.
Using a potato masher or an Indian Wooden Masher*, mash down the Tomato Bajji until there aren't any solids that hold its shape.
Serve it hot with dosa or idlis or chapatis!
Shop related items:
Notes:
USE THE SERVING SIZE ADJUSTOR ABOVE TO ALTER THE INGREDIENT MEASUREMENTS FOR AS MANY NUMBER OF PEOPLE YOU LIKE.
I use a 6-quart Instant Pot. Cook time may vary for other models/sizes. Also the Altitude you live in will play a part.
Oil: I like to use Sesame Oil which imparts a mildly bitter flavor to this chutney. But you can use any of your favorite vegetable oils
Measurements: This recipe is very lenient, as in, you don't have to follow strict measurements.
Chilli: This chutney yields a medium spicy Tomato Bajji, if you like spicier chutney, you can increase the number of chillies if you like. Likewise, decrease it if you aren't a spice level.
Turmeric: Do not skip it or reduce the amount. For authentic flavor, use 1/8 tsp, no more or no less. Turmeric gives a major flavor to this Thakkali Bajji.
Tomatoes: Make sure to use really ripe tomatoes for maximum flavor and juice. I like to use Heirloom Tomatoes which has this really nice sweet and sour taste.
Mashing it down: If you are not accustomed to the tool "mathu", use an Immersion blender and blend it just a few times. DO NOT completely blend it.
To make this without Instant Pot: Basically, in Instant Pot we can skip a step. So when you make it without an Instant Pot, cook the tomatoes for 10 minutes in boiling water. Follow the rest of the steps using a saucepan, add the tomatoes and boil it again for 10 more minutes. Also, this method will need more water than those mentioned in the recipe this is because the water will evaporate when you let it simmer.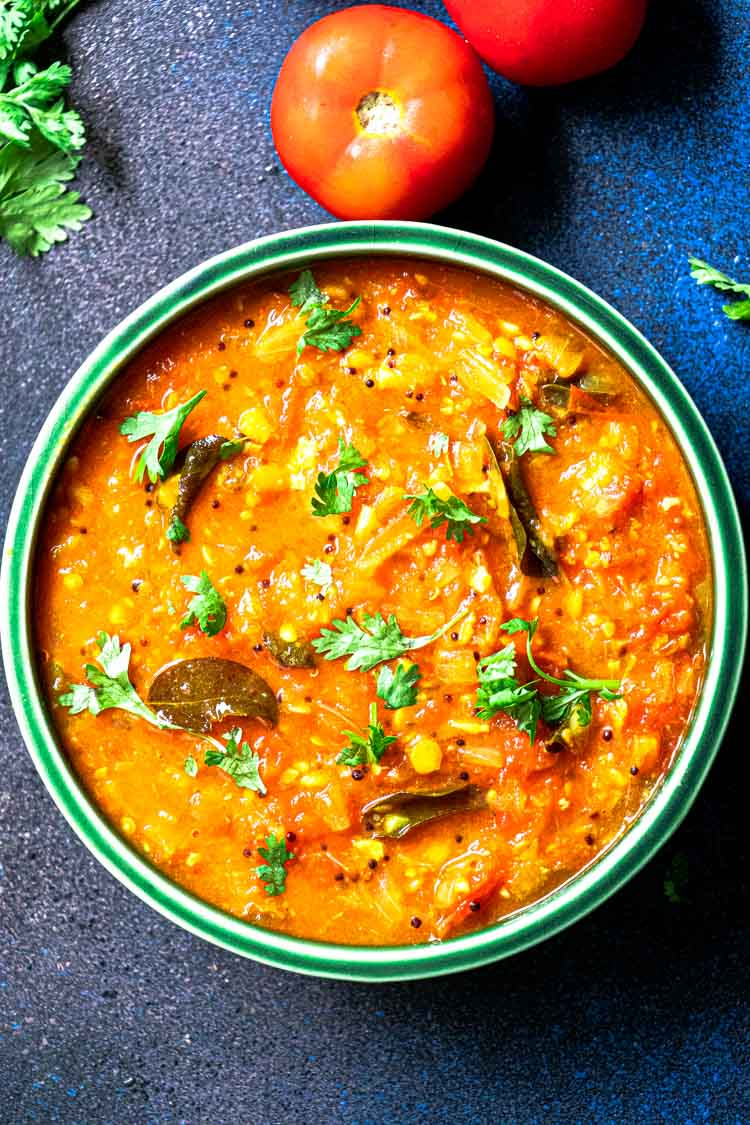 Made this? Got doubts? Let me know what you think in the comments below!