Last updated on September 20th, 2023 at 05:55 am
Recipe for chicken fritters – Effortless, delicious, and freezable cheesy chicken fritters loaded with cheese. Packed with lots of protein these fritters are perfect for party menus, kids lunch meals, and KETO/ Low-carb diets.
Be sure to check my Kerala Chicken Fry recipe next!
Jump to Recipe
My husband is on a keto diet and I've been breaking my head with ways to cook keto food for him and at the same time cook regular food for my daughter and me. Luckily I tried these chicken fritters and with a few trials, I've arrived at the perfect super cheesy fritters with the cheese pull that we all love.
These days I always have these in my freezer. You know, for days when I couldn't plan ahead, these fritters are a godsend! Which is why I totally love it; it's easy to make and tastes super delicious. It is mildy spicy so you can serve these as healthy snacks to your kids or if you're on KETO these are perfect!
Oh and if you are interested in this recipe for chicken fritters, you'll be interested in Cheese Corn Balls, Chicken Seekh Kebab, and Hawaiian Chicken Salad! Now, let's see how to make this cheesy goodness!
What goes into these fritters?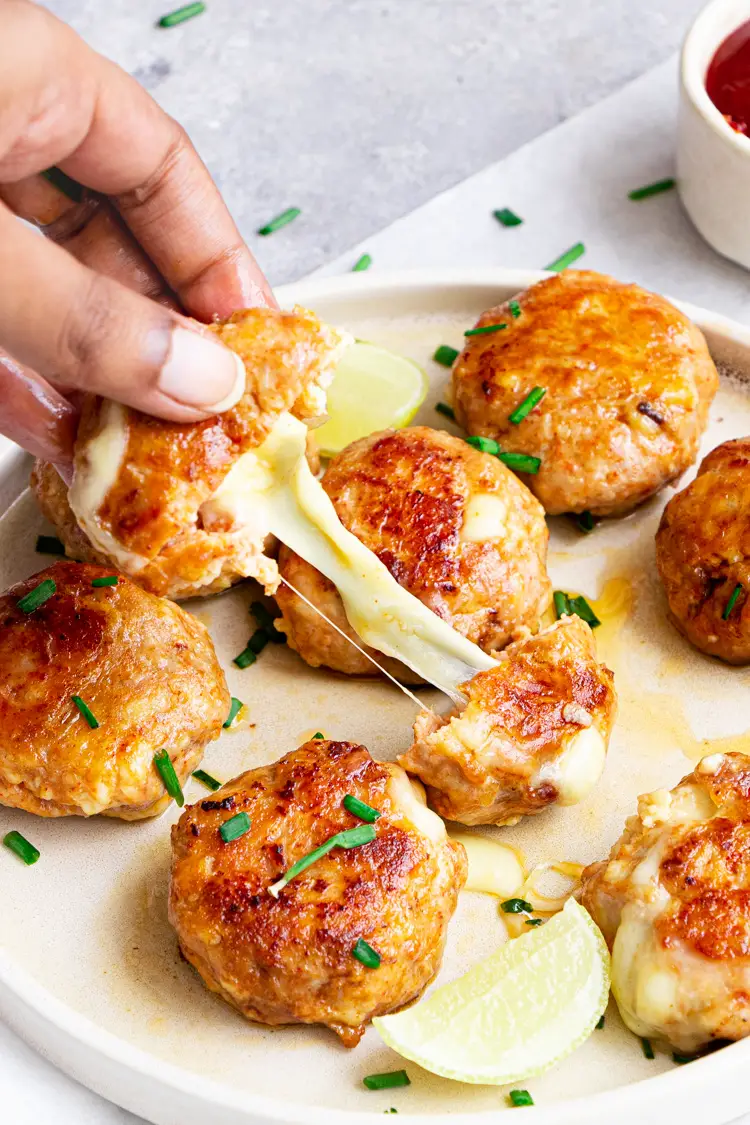 The reasons why I love these fritters are because of its simplicity. But that doesn't mean there's no compromise in flavor or taste. This recipe for chicken fritters uses easily available ingredients which makes them so easy to make. Smoked paprika for spice, ginger garlic paste, and soy sauce for flavor are what goes into these. And of course, there is paneer and mozzarella which adds to the deliciousness!
Cheese:
I like to use paneer for this in its grated form. It adds so much protein and fat. However, you can use any firm non-melty cheese you prefer, like cottage cheese or feta. On the other hand, in place of mozzarella, you can choose any melty cheese or even processed cheese.
See Also:
Serving Suggestions:
I like having these cheesy chicken fritters with some ketchup or some tandoori mayo or some lite mayo. But our family's favorite is having these cheesy chicken fritters with some good wholesome coleslaw. And of course, you can make awesome sliders with them.
Nutrition information:
This recipe for chicken fritters gives you the perfect low carb snack or meal. With only 74 calories per fritter, it is packed with 7.3g of fat and 8.6g of protein. And it only has 0.2g of carbs. Even if you eat 5-6 fritters, you'll still be good. So we can call this a healthy-ish fritters depending upon the diet you're on although it is healthy for kids.
How to store it?
You don't want to store this trust me. If you want the cheese to be really melty and super delicious don't cook it ahead of time. This is one of those recipes which requires you to cook them just before serving. It is really easy though once you have the chicken patties.
See Also:
However, you can make the uncooked chicken fritters and freeze them for up to a month. To do this, place the fritters in a pyrex or Tupperware, ensuring to separate each layer with parchment paper, and then storing the box in the freezer.
The container should be really airtight, if you have doubts put the container again in a Ziploc bag before you freeze 'em. Before you cook them, thaw it at room temperature for about 1-2 hours.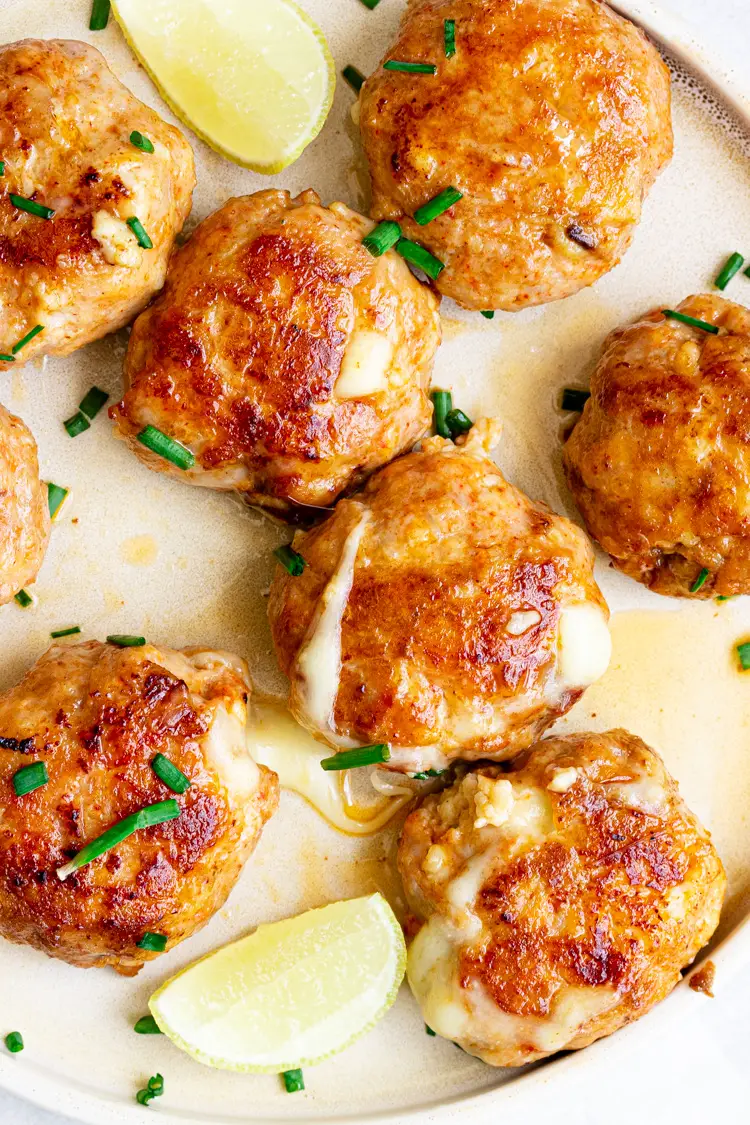 Diet and allergen information:
This recipe for chicken fritters gives you cheesy chicken fritters that are KETO and Low-carb friendly. Since it contains cheese, these are not for people who are allergic to lactose. And definitely not vegan or vegetarian lol.
See also:
Variations and Substitutions:
There are several ways you can add a twist to this recipe for chicken fritters. One of my favorites is this: if you're serving it to your kids, add some chopped and steam broccoli.
Recipe for Chicken Fritters:
This recipe for chicken fritters is all about mixing the ingredients up and cooking them. You'll see how easy it is when you make 'em!
These are the ingredients you need to make it:
Chicken Thighs – 500 g ( boneless, skinless, cut into bite-sized pieces)
Paneer – 200 g
Mozzarella Cheese – 100 g
Smoked Paprika – 1.5 tsp
Soy Sauce – 1 tsp
Ginger Garlic Paste – 1 tsp
Salt – 1 tsp
Olive Oil, as required
See Also:
And this is the method:
Cut the mozzarella cheese into 20 equal rectangular bits. You'll be stuffing this in the chicken mixture later.
Add the cut chicken thighs to a food processor. Pulse it until it breaks down and then process it until it is ground. Transfer it to a mixing bowl.
Shred the paneer over the ground chicken. Add the chili powder, soy sauce, ginger garlic paste, and salt. Mix it thoroughly. Divide it into 20 equal portions.
Make disc shapes with each portion, place one mozzarella piece in the middle, and bring the chicken mixture to cover the cheese bit. Gently press it down to patties, ensuring that the mozzarella is not exposed.
Place a skillet on heat and add few tablespoons of olive oil. Once it is warm, place the chicken fritter patties on the skillet. Fill it up with as many fritters it can accommodate.
Turn the heat down to low-medium and cook it for about 5 minutes. Flip each fritter and cook for 5 more minutes, gently pressing down occasionally. The Cheesy Chicken fritters are done when the mozzarella oozes out of the fritters.
Serve it immediately with ketchup or mayo!
Shop related items:
Notes:
As an alternative to stovetop cooking, you can also bake these fritters. To do so, preheat the oven at 300 F / 150 C. Bake the chicken fritters for 20 minutes.
To store the uncooked fritters for later: arrange them in a deep glass storage box. Use parchment paper to separate layers. Keep the box in the freezer.
To cook frozen fritters: thaw them in room temperature for 1-2 hours. Cook as mentioned above. If you are in a hurry, you can place the skillet on low heat and cook the fritters for 15-20 minutes.
Paneer: You can use cottage cheese or feta in place of paneer. Or any non-melty cheese would work for this.
More recipe you might like:

Made this? Got doubts? Let me know what you think in the comments below!