Last updated on March 4th, 2021 at 05:39 pm
Love peanut butter? Lovvve cookies? These peanut butter cookies are the perfect way to bring both into one. The buttery texture of these cookies makes them melt in your mouth, you won't stop with just one!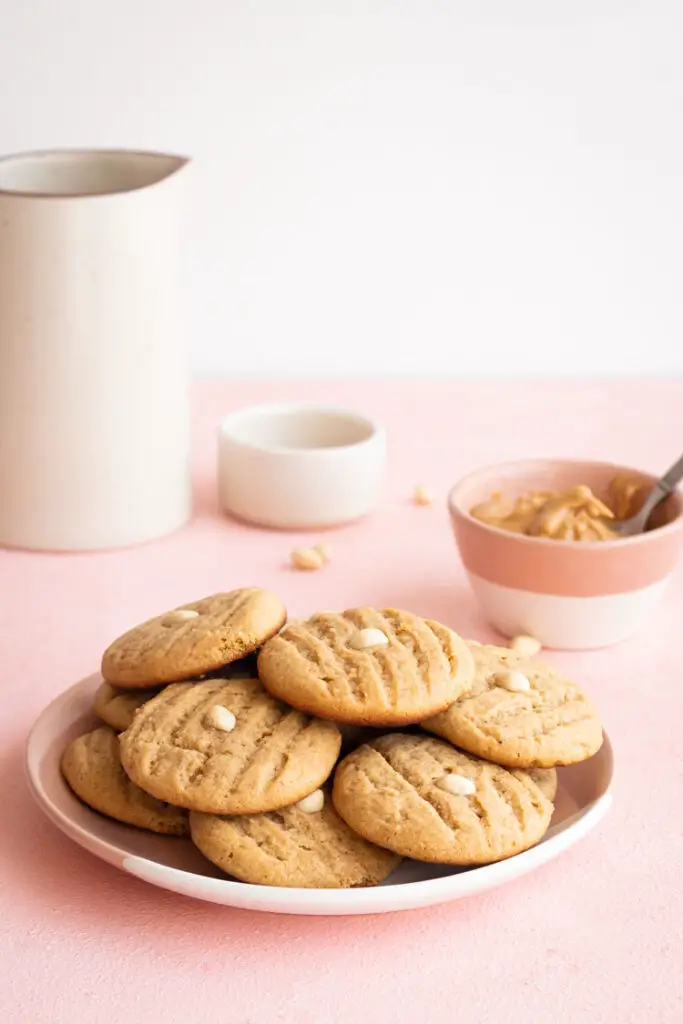 Hey guys!
I have been out and about, mostly meeting up cousins, friends and lounging at my parents' place. Oh and I've been really focused on my recent project, which is to make A forget all about sleeping in her cozy and comfy Thottil (a simple form of the cradle). She has been sleeping in it only for a couple of months now. So I was hoping it should be easy, but it wasn't! No surprise there!
Imagine sleeping in a hammock only it is softer, accommodates you however you move and there's someone to rock you when you demand! I know we wouldn't wanna forget that too. But I had to since I'm the person who is doing the rocking.
Luckily we went away to my husband's cousins' place for almost a week. When we came back she wasn't too upset about the missing thottil. Yay!
See also: Scrumptious restaurant style chicken Seekh Kebabs recipe
Peanut Butter Cookies:
So now that my sleep is settled, at last, I've been trying to work up a new diet plan for me, which is quite tricky. I don't like fad diets and which really worked in my favor when I had few extra pounds. But now I have to reduce a bunch of pounds to get back into shape. I came across and read a book by Rijuta Diwekar.
I was quite surprised about this book for two reasons, it is reasonably priced and it has lotta valuable information. She talks about eating everything in moderation and which is just what I have always followed and like. Which is what everyone needs right? Especially when we love food. Speaking of eating everything in moderation, I made these Peanut Butter Cookies and had some, which is okay know?
See also: Moist and super soft Banana bread recipe
In India, peanuts are grown and consumed in large amounts. But nut butters are new here, let alone peanut butter. With multiple uses for it, including Peanut Chikkis (or kadala mittai) no one bothered about looking further. Peanut Butter has been around in America for over 100 years or more, and have been bulk produced since the early 1900s. And yet, it finally made its way into India only recently.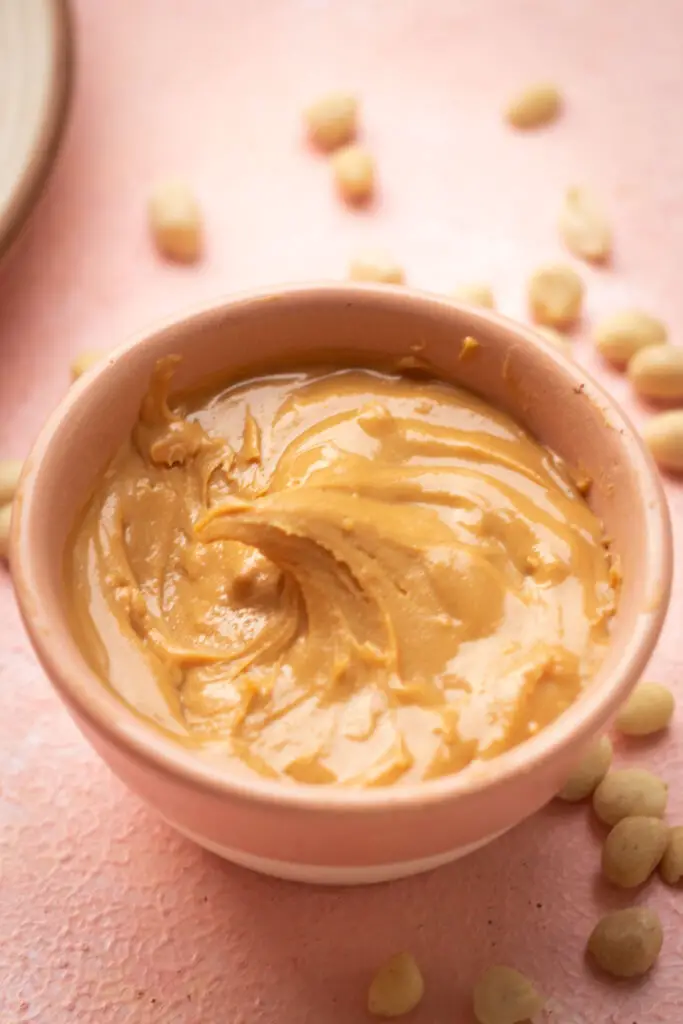 It is quite delicious, in fact it tastes similar to the aftertaste of eating Peanut Chikkis. Although I don't like to put it on everything, I definitely love them in cookies. This recipe gives you cookies which are soft on the inside and crisp on the outside. I couldn't be more drawn to these, a great break from chocolate based cookies. Peanut butter, comes in creamy and chunky varieties. I like to use creamy peanut butter, but chunky sure adds some interest to the cookies.
How to make these cookies:
I can't stress enough how easy these cookies are. These are one cookies you don't have to think about making it ahead, because you only need 30 minutes to make these. Except the chilling time, which is the only extra time here.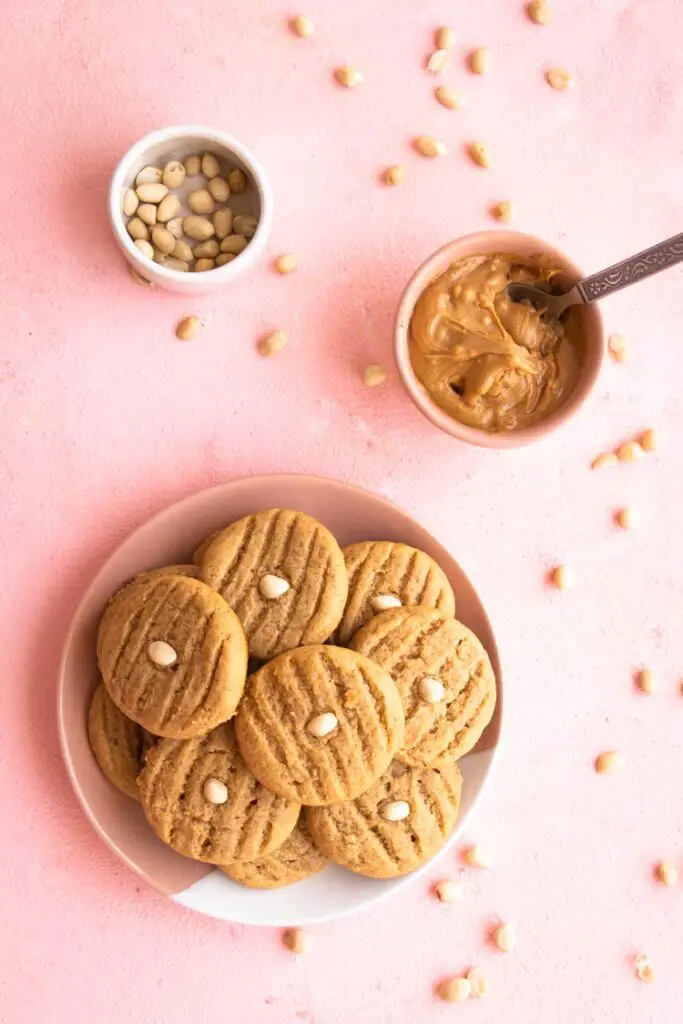 Wet ingredients:
Have all the ingredients at room temperature. Butter has to be soft. In a bowl, add the Butter and peanut butter. Also add the brown sugar and the caster sugar. With an electric mixer cream the butters and sugars till pale and slightly fluffy, on medium speed.
Add one medium egg and whisk till it is completely incorporated. It should have slightly increased in volume and looks pale. Next, measure a teaspoon of vanilla extract and add to the butter mixture. Quickly mix it in. This makes the wet ingredient.
Cookie dough:
In a separate bowl, add the all-purpose flour, baking powder and baking soda. Mix it well. We're not using salt here since the peanut butters mostly come as salted. If you're using unsalted peanut butter, add 1/2 tsp of salt.
Related posts:

How to make the best chocolate chip cookies?
Transfer the dry ingredients to the wet ingredients. Mix it with electric mixer just until everything comes together. Careful not to over mix, we do not want any gluten formation.
The dough should be slightly sticky. Cover the bowl with a lid or cling film and refrigerate it for atleast 30 minutes. You can also leave it overnight and bake it the next day. Remove the bowl from the refrigerator, pinch and shape the peanut butter ookie dough into even sized balls. I like to use a weighing scale, if you've got one measure out 30g balls. If you don't have one, just eye ball it.
Baking:
Preheat the oven at 180 C for 10 minutes. Line a cookie sheet with parchment paper or Silpat.
Place the cookie dough balls on the lined cookie sheet. If you've got a small cookie tray, place cookie dough balls accordingly. There should be enough space between the dough balls, as they'll spread out.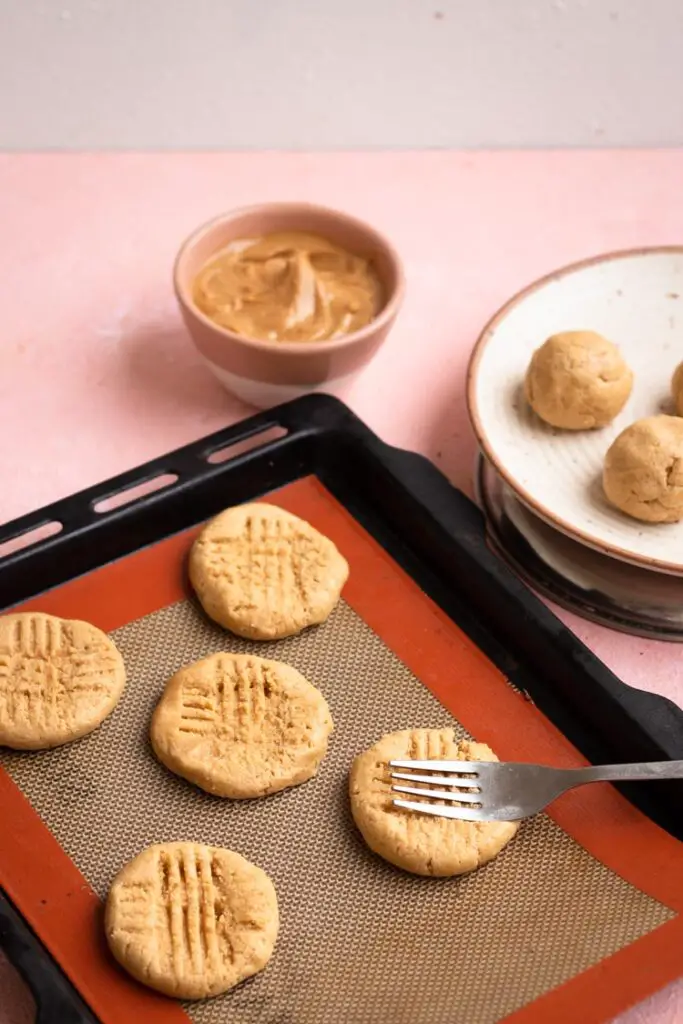 Once you've placed the dough balls on the sheet, flatten and add a crisscross design with the back of a fork. This cookie print is the classic pattern of peanut butter cookies. Do not press it down too hard, the thickness you're looking for is 1/2 inch not lesser than that.
See also: The easiest dessert recipe? It's this Blondies with a scoop of ice cream!
Place in the oven and bake for 10 minutes or until the base of the cookies are golden brown and it begins to brown on the sides. Remove from the oven and let it cool on the cookie sheet for 10-15 minutes.
Recipe Source: Adapted and slightly modified from Better Homes & Gardens magazine.
Notes:
Rotating the cookie sheet: These cookies get baked very quick. There is a possibility that one of the rods heats too much compared to the other. To prevent burning, remove the cookie tray and rotate it so that the front end is at the back now. 
[the_ad id="692″]
Sugar: These cookies have less amount of sugar, if you like it very sweet use 80g of brown sugar. If you prefer lesser sugar, use 50g instead of 65g of brown sugar.
Storage: These cookies stay good at room temperature for 3 days. If stored in the rerigerator, it can be stored for upto a week. These Peanut butter cookies become brittle when frozen, but are easy to make it any time you crave them.
Chilling:  You can chill it for a minimum of 30 minutes to overnight. 
More recipes from the blog:

Made this? Got doubts? Let me know what you think in the comments below!